Heir Island Retreat – the story of how it came to be.
The story of the Heir Island Retreat starts back in the mid 1960's when my parents were on holiday in Ireland. Fortuitously, as a family we camped at Cunnamore, (at that time Cunnamore was just a field). They got to hear about houses for sale on Heir Island and being curious by nature arranged for a boat to take them across.
The following year – we were still camping, but this time in the house they had bought on Heir Island Middle. Previously used to store hay, there was a lot of work to do. It became a labour of love and a haven that we returned to from the UK every Easter and summer.
As a child, this was where my holidays were spent – I took the freedom to roam, the fishing trips, seeing phosphorescence at night time, collecting eggs, the fun of the regattas, feeding new born calves, gorging on juicy blackberries, collecting well water and candle lit bedtime as the norm. And so, Heir Island settled into my heart and my very being and has stayed there ever since.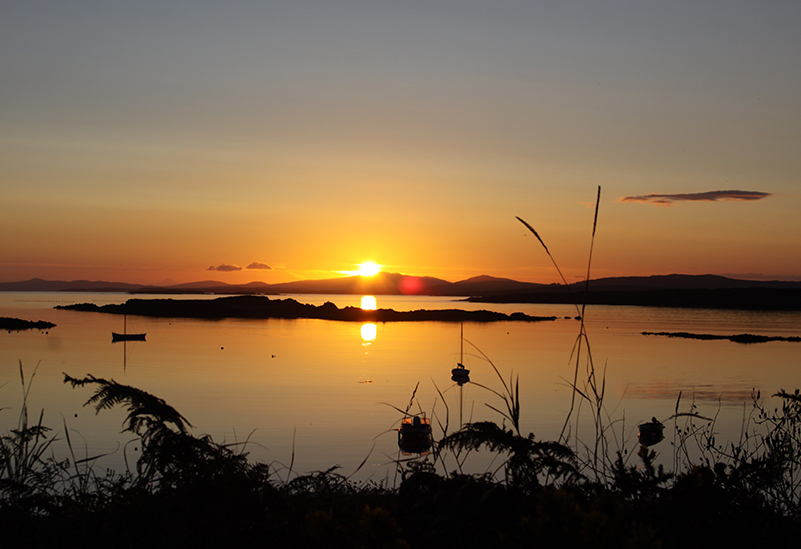 Years passed and I did the career thing, getting back to the island whenever I could – never often enough. Then, when I had met my husband Paul, there was an opportunity to move to the island full time – my dream had come true.
Along the years we had done a lot of our own personal development and through our work, had the privilege to accompany other people on their own journey. One thing that we knew made a huge difference was the environment in which that took place. Places of natural beauty, calm and spacious, places where one felt held.
We knew Heir Island was such a place and it became a desire to create a space here so that other people could benefit from it's magic. Heir Island Retreat was born.
That was in 2012 – since then we have held many diverse events from yoga and meditation retreats to music performances to team workshops – even theatre.
Unexpectedly, the Retreat has also played a role in inspiring me to train to as a yoga teacher and I am so grateful for that. The studio is perfect for yoga as the many teachers and students experience.
The themes in the comments of people who visit are consistent – they sense the magic, they feel nourished and they leave inspired.
Sarah Matthews.
Subscribe to
our newsletter
Stay Up To Date With What's Happening
At Heir Island Retreat!